Our next session will start Monday, March 20. Sign-ups will start on March 6. Join us for some fun STEAM programs for kids in Kindergarten to fifth grade or early literacy programs for children birth to age five.

Title: Pancakes! An Interactive Recipe Book
Author: Lotta Nieminen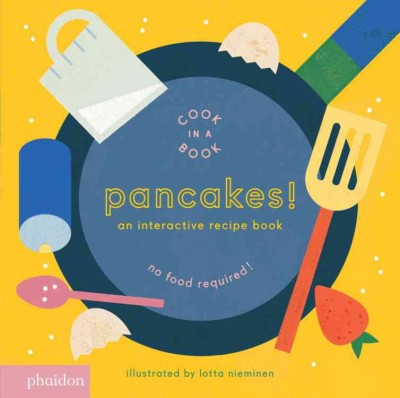 This is one of those books that is just plain fun to check out. "Pancakes!" takes children step by step in completing the recipe. It begins with a list of ingredients, and then it asks the reader to interact with the book, "pouring" the flour, "whisking" the eggs, and "flipping" the pancakes. Children will love playing with the pictures and finishing their meal of delicious pancakes. The story is so well-detailed, parents could follow the recipe in real-life later at home to create pancakes to eat. "Pancakes!" is a board book, but it probably more appropriate for preschool age children than young toddlers. There is a lot to this book, and toddlers may lack the attention span to listen to the whole story. All of the wheels, tabs, and pop-out pancakes should keep older kids engaged and wanting to read this story again and again.
-Miss Rachel