Coronavirus Response at GPL
At the advice of state and local health officials, the Greenwood Public Library building is currently closed.
The book drop is closed, however all physical items that are currently checked out have had their due dates extended until the end of April. Please keep all checked out items until April 28th. Any holds that were placed before our closure will be waiting for you when the librar
y reopens. (Checkouts of digital materials like ebooks and digital audiobooks will continue normally.)
We are more than little heart-broken to make this announcement and we sincerely apologize for the inconvenience this decision causes, but the health and safety of our patrons and staff are our top priority. As always, our digital collections are available to serve you 24/7 wherever you are. Our librarians are already working to bring you new, creative, virtual content. Stay safe, keep reading, and we hope to see you in April!
For email updates from GPL, please sign up for our newsletter by clicking here.
While the Library is closed
While we are closed, please remember that your Evergreen Indiana GPL library card provides access to awesome e-resources you can access any time including eBooks and eAudiobooks on Overdrive/Libby and Hoopla, guided courses on Lynda.com, and thousands of movies on Kanopy.
What about tax appointments?
Tax appointment at the Greenwood Public Library has been postponed as the library is closed due to the virus outbreak. We are very sorry for any frustrations – the health and safety of our community, staff, and volunteers is our highest priority. A staff member or tax volunteer will be in touch when we are able to resume tax assistance. Your appointment will be honored at that time. Meanwhile, if you have internet access, consider e-filing through INFREEFILE which is free for most people with simple taxes. If you have questions or concerns about filing your tax return, please email us at questions@greenwoodlibrary.us and we will provide you additional resources. Please keep in mind that there is no penalty for filing late if you do not owe money to the government.
What about Wi-Fi access?
Our free Wi-Fi is still available 24/7 in the parking lot in front of our building. The network is GPL-Guest and there is no password. Please see the image below to see where Wi-Fi is available.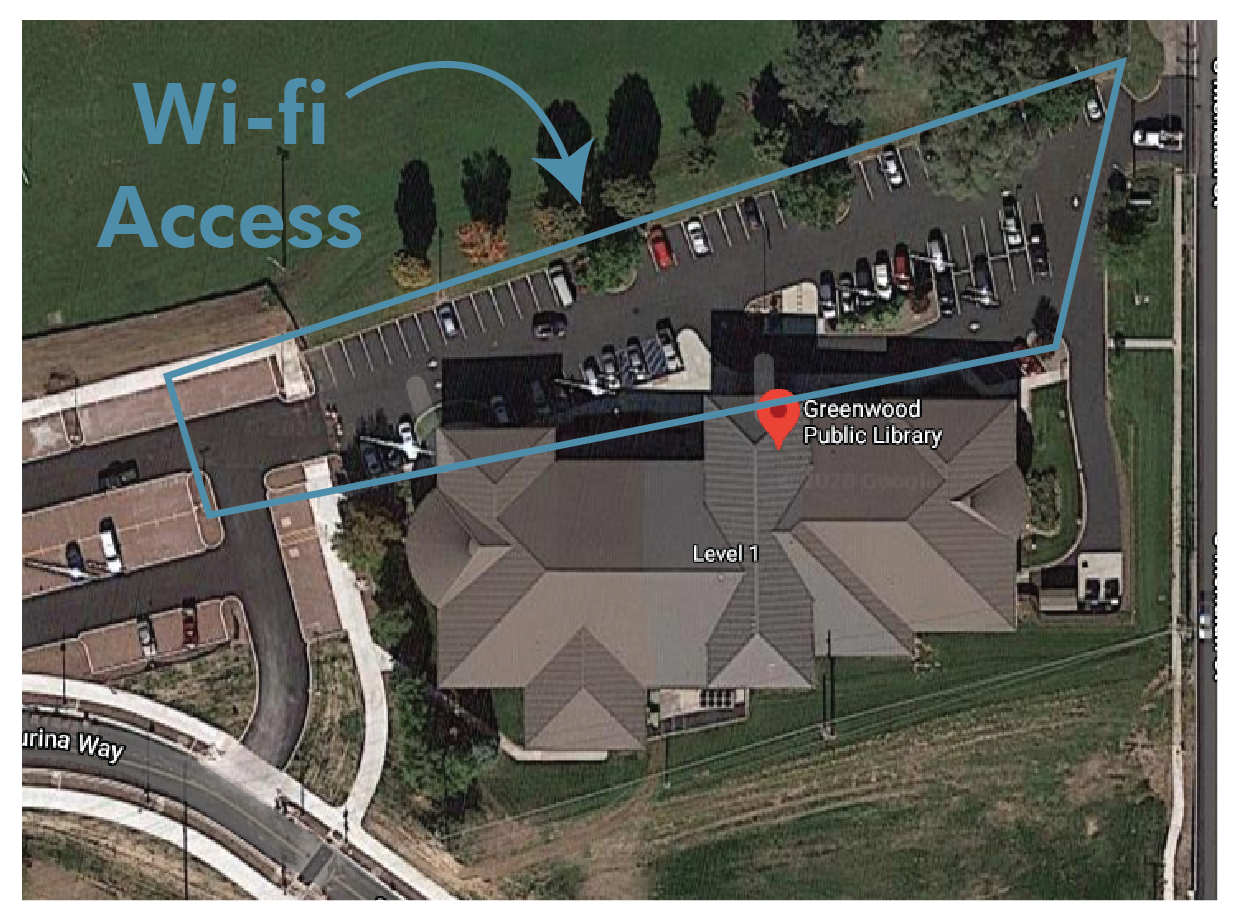 Useful Links about Coronavirus (COVID-19)
US Centers for Disease Control (CDC)
updated 4/2/20